Welcome to Hamilton Trike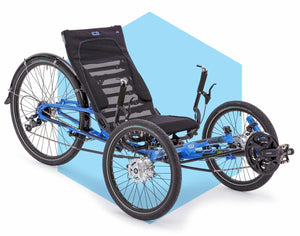 ICE Trikes
2023 promotions
free shipping, free OTR accessory package, free battery
Accessible
We carry a wide range of trikes because every trike has a different purpose and every person has a unique need.
Adaptive
We want everyone to be able to ride pain free which is why we love the challenge of adapting a bike to fit your specific body.
our specialty
Recumbent Tricycles
Explore our wide range of recumbent trike brands. We'll help you find your perfect fit.
Explore Brands
Shop Our Bike Accessories
Arkel Handlebar Bag
SEE PRODUCT
Pedal Swing & Crank Shortener
SEE PRODUCT
Da Brim Sporty Helmet Visor
SEE PRODUCT
Our Google Reviews Say it All
My brain disease has not allowed me to ride a road bike for fifteen years. Cora suggested a particular trike based on my age and health, and made the whole transaction painless.
Cora was able to set up my trike specifically for disability on my left side. I'm outside enjoying beautiful weather and fun trails...feel like a kid again. Thank you Cora for your help!
Very knowledgeable owner who takes the time to discuss and explain the various trikes available with clear explanations on the difference between types of trikes and the pros and cons of each.
Great service! Will definitely recommend to anyone who wants a trike or recumbent.
Not sure what you're looking for?
No problem! We'll help you through the process of finding your perfect ride. Check out some of our suggestions and get in touch to set up an appointment.
Contact Us